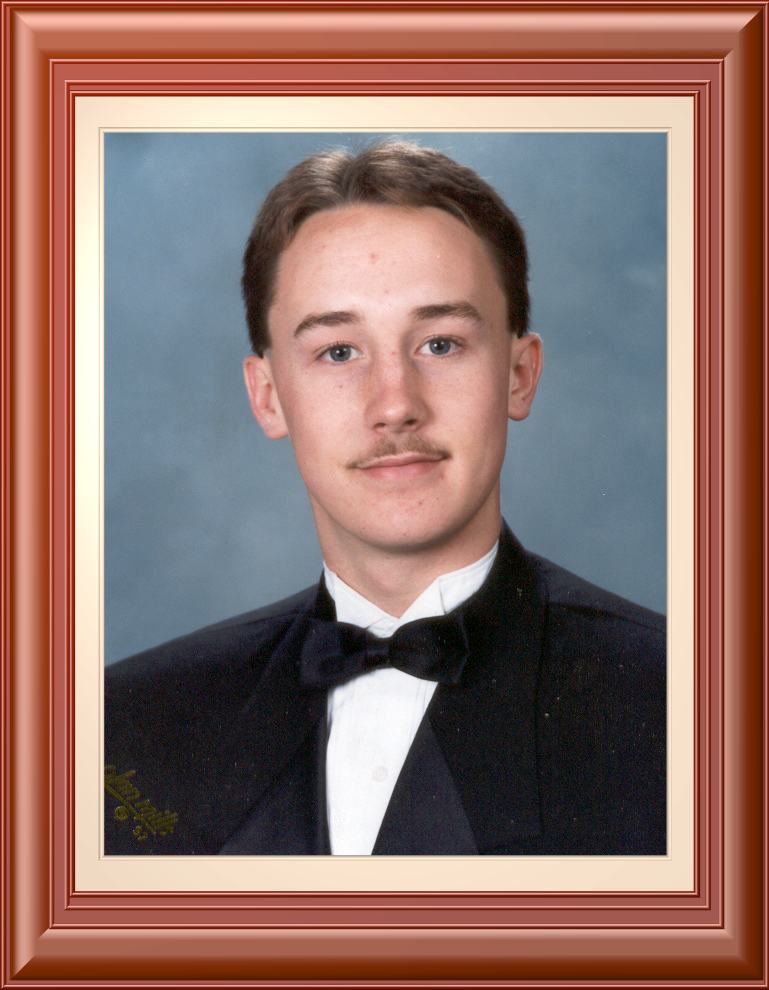 ROGER DALE JOHNSTON
10-22-1979 - 12-22-1997
The following is what we call "Dale's Resume". This is what Dale wrote about himself for his guidance counselor. He had to write something about himself for his school file to enter into college. Dale turned this in to the school on Friday, the last day of school before christmas vacation. On the following Monday evening, he was killed. His counselor gave it back to us and asked that it be read at his service on christmas eve. It was read and my mother, later that week, did it in crosstitch. It now hangs in a 16x20 frame on our living room wall.
"Dale's Resume"
Church Activities and Honors:
I am a member of Liberty Pentecostal Church in Molus, Ky. While at church I help with children's church, am a member of the choir, and I am very involved with my youth group.

Work Experience:
I have had plenty of work experience. For the past three years I have been doing all sorts of odd jobs. I mow grass, cut trees, dig ditches, detail cars, install stereos, and wash windows. This is not just a summer job. During the winter, I use insulated gloves to continue my car detailing. I am definately no stranger to hard work.

Hobbies and Special Interest:
I enjoy washing cars and doing yard work, but I have two very special interests. One of which is my church, and the other is installing stereos. Both have lately been my only interests.

Activity I Feel I Made Most Contribution To and Why:
I feel that I have made the most contribution in my church youth group. By being involved in the youth group, I as well as the other members, have tried to show others about God. Hopefully they will see God in me and I don't have to tell them that I am a Christian. Each member plays a special part. A youth group is kind of like a building and each member is one of the blocks that make up that building. If one of the members or blocks were missing, then the building would fall. I feel that my involvement has helped to made our group stronger so that we may better serve God.
~The Story Of My Baby~
Where do you start? How do you try to sum up eighteen years of growing,loving, learning, warmth, and compassion in just a few pages? Dale was everything to me. He and I always had a special bond. He was sickly when he was little, and I smothered him with love and concern and fear. Through his illnesses we made a bond that was never broken. When we brought our baby home with us on October 22, 1979, our family was complete. Mom, dad and two children. What more could we ask for? Dale's sister, Melissia, was six when he was born. She was so proud to be the big sister. She didn't realize at that time, that this cute little baby would grow and want to get into her things. She also didn't know that he would take up a lot of her friends time also. They too were fascinated with a new baby. As Dale got older, the arguments started. Needless to say, Melissia liked it better when Dale was in a bassinett and could be looked at all the time. Nonetheless, they were inseparable. Then, to my surprise, one day Dale was a teenager, complete with a car and a girlfriend. How could this have happened? The car came from his popaw. Dale loved popaw dearly, and when he was called home to be with the Lord, Dale's grandma gave him popaw's car. He was so proud of that car. Always washing and waxing and cleaning. Never had a speck of dirt on it. He told his grandma he would keep the car until he died. We never dreamed he would not have it long after that. The girlfriend we later learned, was from God. Amy Hensley was one of the best things to ever happen to Dale. It was through meeting her that Dale met his Lord. She was saved and invited Dale to her church. That was a whole new beginning for Dale.
He was at the age where he didn't want to go church, as most teens reach that point. We had the typical Sunday morning arguments about getting up and going
When it came time for Dale to get his driver's liscense, we had him to sign a contract with us. One of the things on that contract was that he had to drive himself to church at least once a week. If he missed for an invalid reason, he would lose his liscense for a week. Well, he never missed another Sunday service.!!!!
We were in a church at Baxter. Amy invited him to church at Liberty Pentecostal Church in Molus. It was here that Dale gave his heart to the Lord and got saved and started on a journey that was unbelieveable. Dale was such a devoted christian. Always telling others about church and trying to get them to come. He wanted everyone to feel what he felt, and to know the Lord that now was so precious to him. All Dale's friends knew that he was saved, and as they put it, he was still "cool". He was never ashamed of what he had found.
On December 22, 1997, the youth group party was being held. The kids had exchanged names and were to bring refreshments and a gift. Dale left the house at 5:30 p.m. I can still remember him going out the door. His two litres of pop and chips in a bag in his right hand, and a cd for the present he was taking in his left hand. Going down our walk to his car. When he backed out of the driveway, we didn't know he would be called home to Jesus. As he was on his way to church, there was an 89 year old man, Samuel Cole, traveling on the wrong side of the road. He hit Dale head-on. They were both killed instantly. God is a merciful God. And we praise and thank him for that. Dale nor Mr. Cole didn't suffer. There are worse things than death, and God kows what we can handle and what we cannot.
I know that in that instant, my baby met Jesus, and is now walking down those streets of gold. There is not a doubt in my mind, because I know what Dale had in his heart, and I know how he lived his life.
There is a song that Dale sang, and this is the way he chose to live. The song is "I Choose To Be A Christian" The youth group sang it for him at his service.
~I Choose To Be A Christian~
I met a man the other day who looked at me and said So many times I've seen your kind before, You can't do this, you can't do that, you're bound by rules and restrictions What a dreary life christians must observe. Well, I looked him in the eye and said you're wrong, I can do anything that turns me on. I can smoke till my eyes turn red and my face turns blue, I can chew and dip, I can snort and cuss Party all night until the sun comes up, But there are better things in life I choose to do.
Chorus: I choose to be a christian, I choose to be like him Nobody's makin me do it, it's how I want to live. You decide for you, and I'll decide for me, It's the choice I have and its what I choose to be.
Well, I must admit that from time to time, That thought of heaven keeps me towing the line That the Lord is comin, it sounds to good to be true, But if all this was fairy tale, there was no heaven and there was no hell, I'd still be happy living like I do.
So don't look at me in sympathy and think that I've been cheated By not doing all those things that you call fun Some night when your getting down on your darker side of town, This choice I made will be lifting me from out of here.
Chorus: I choose to be a christian, I choose to be like Him, Nobody's makin me do it, it's how I want to live You decide for you, and I'll decide for me, It's the choice I have and it's what I choose to be.
This was excatly how Dale felt. This was a choice for him, and he chose to be a christian.
My baby, I love you forever and ever and always. I know one day we will meet again, and I know exactly how that will happen. I will enter heaven, and you will come up behind me and put those arms around my neck, and say "love ya mom", for this how you always hugged me. Never put you your arms around me that you didn't say this. I can't wait to feel those arms and hear that voice saying those words. Every moment is spent waiting for that day. I love you Dale, and I will be there soon.
~Thoughts From Dad~
I'm sitting here trying to come up with words to say about you. You would think with a son as special as you were to me, that the words would come very easy. How do you write words from your heart that has been broken for four years?
You were a son so special because we shared so many of the same interests. We liked cars, trucks, riding motorcycles and fishing. These were just some of the things we enjoyed doing together. We would trail ride on those bikes together, and sometimes had your friends with us. It was such a pleasure for me to watch the fire in your eyes when we were riding together. That's where my joy from riding came in.
I watched you as you went from a baby, to a boy, and then to a man. You had such high values, and a religious conviction, such a love of God and your brothers and sisters in the Lord. Such a feat for someone so young. Your dedication to God from a man of eighteen was a real blessing to me. You were so serious about your God.
I hope you know how proud I was of you as a son. I know you knew how much I loved you.
On December 22, 1997, I lost the best friend I ever had. People say that time will heal all wounds. Time does make the pain a little more bearable, but that big giant hole in my heart is still there. Only with God's help, and the knowledge that I will see you again keeps me going day after day. I love you so much Dale, and I miss you more than I can ever put into words. Until we are together again, I will keep serving the Lord that we loved so much, and that we worshiped together. Dad